Seeing as this month is Pride month I really wanted to write about some of my favourite shows and movies with a queer focus but before I dive into this I feel the need to apologise for the shortness of the list I am about to present to you. Honestly? I wanted to do a top 10 but realised that the amount of media which contains queer themes is minimal at best. The way that the queer community is represented in the media really just isn't good enough and the amount of well-written pieces, well, I can nearly count them on one hand. So, without further ado…
6.  The Ellen Show
For all of you who haven't been living under a rock for the past show, The Ellen Show is an obvious choice to hit number 5 on my list. Ellen Degeneres has been my idol for as long as I can remember. Her kindness, confidence and bravery empower me every single day and the way she has dedicated her life to spreading love is truly inspirational. This year has been a very special year for this amazing lady as she celebrated her 20th anniversary since coming out as a lesbian on her sitcom. It is so important here to acknowledge how much hatred and how much she has overcome for something that straight people, in particular, take for granted. Ellen began a new adventure with her talk show back in 2003 and has been a massive support to the queer community ever since. Her honesty has inspired a generation of queer babies to be who they are and to love themselves unconditionally and in a world full of people who are so ready to tear you down, Ellen's light is leading the way for so many vulnerable and terrified people.
It was the hardest thing that I ever had to do in my life and I would not change one moment of it because it lead me to be exactly where I am today.
5. Annie on My Mind
This book is probably one of my all-time favourite books. Annie on My Mind is a fictional novel written by Nancy Garden in 1982, following the story of two teenage girls – Annie and Liza. They met in a museum and almost instantly fall in love, but don't quite realise it at first. Annie on My Mind has undertones of the classic Romeo and Juliet, with Annie living in the run-down suburbs of New York, her parents being Italian immigrants, while Liza lives in the upscale town of Brooklyn Heights with her parents her brother with whom she attends a private school, Foster Academy. While the girls go on many adventures the book takes a turn where the girls find themselves at a loss over what to do, over-run by guilt and heartbreak. This story explains exactly what it can be like to fall in love with someone of your own gender. It captures all the first-love butterflies and the missed heartbeats from Liza's point of view, telling the audience why she fell in love with Annie and why she will never love another the same way. This novel really does hold a special place in my heart as I read it when all these emotions were so very real and relatable to my life. It was the first love story that ever really made sense to me.
It's Annie and me they're all sitting around here like cardboard people judging; It's Annie and me. And what we did that they think is wrong, when you pare it all down, was fall in love.
4. RuPaul's Drag Race
 
RuPaul's Drag Race is by far the most fabulous show not only on my list but to ever exist. These queens have affected every part of my life; my style, my vocabulary and of course my confidence. This show is full to the brim with creativity and passion. It's full of people who are good at what they do and who love what they do, which really is one of my philosophies in life. And of course, there's a LOT of shade being thrown in every which way. These queens know no limits and each season is more shocking than the last. But of course, while the queens are fabulous, the real stars of the show are Queen Ru herself and the beautiful Michelle Visage.  Honestly, they are everything I aspire to be. Strong and independent, while inspiring all around them and giving us queer babies a safe place to be ourselves. And who can forget the time Michelle flashed everyone? I've always said the show didn't really begin until she joined in Season 3. Ru's face says it all really…
3. D.E.B.S.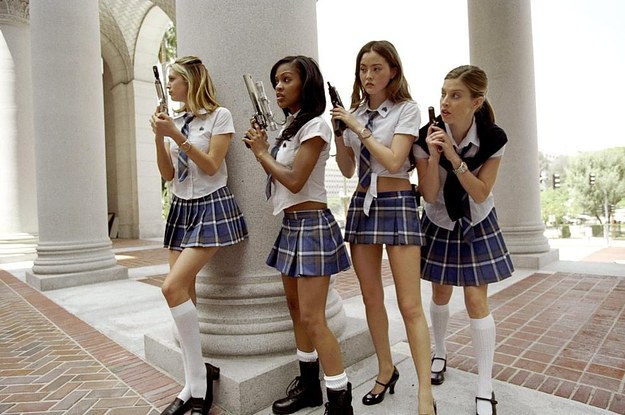 This movie is probably one of my favourite movies solely based on the diversity of the main cast. And not to mention, for once, the women are the heroes. Bad ass spy girls, saving the day. This is such a pure love story about a spy falling in love with a villain, making her want to be a better person. Amy and Lucy are, for me, an iconic pair of lovers, showing just how love can change people and make people good and of course that your true friends will always have your back, no matter what. Be yourself, love who you want to, and be proud. Besides, look how cute they are!
2. OITNB
If you haven't been hiding under a rock for the past few years you will undoubtedly of heard of the masterpiece that is Orange Is the New Black. This show is spectacular in every single way imaginable. The most diverse cast to grace our computer screens, this all women's prison has made one thing clear – straight, white men are the enemies in this prison. The women are put through many trials and tribulations that are totally out of order and their back stories are usually nothing but tragedy. The writers have made it near impossible to fall in love with every character for one reason or another. Except for Larry and Vi, don't worry, nobody likes them. The representation in the show is outstanding, which in hindsight, isn't something I should even be commenting on. I mean, it's 2017 for god's sake! Is it really that difficult for all writers to grasp that queer people, black people, Asian people, big people, small people (the list goes on) actually exist?! That would shock a lot of white, male writers I'm sure. Regardless, it really is commendable the efforts they go through to ensure their cast is comfortable and that their audience can see characters they actually relate to. So many controversial topics are covered from sexuality, to rape, to drug and alcohol abuse, to friendship, the list really is endless but enough of me talking, watch it for yourself. Just remember you'll probably need tissues! Netflix, you're doing amazing sweetie.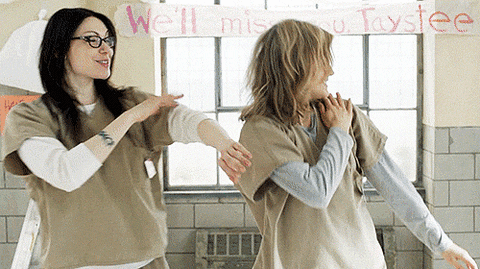 1. Margarita with a Straw
Without a doubt, this had to be my number 1. Margarita with a Straw is about a young, Indian, disabled, bisexual woman making her way through University in America on her own. Laila has lived a sheltered life with a very reserved mother but throughout the film, we get to watch Laila fly the nest and become who she really wants to be. This film particularly struck a chord with me as it is one of those rare instances where disabled people are given a real voice. Laila's character really has been done justice, being portrayed as a sexual character who is not quite the angel people expect her to be, two traits not common when portraying disabled characters in the media. Allowing this rebellious Indian character to explore her sexuality is so taboo in films, this can only be commended. I could go on and on about the beautiful and heart-wrenching triumphs and heartbreaks this film is full of but I don't want to ruin this magnificently crafted film for anyone. The only way you will know how it ends is for you to watch it for yourself.
I hope you have found one new film/TV show/book that you want to try and please do comment your favourite queer media for me to try too!
~Jem x